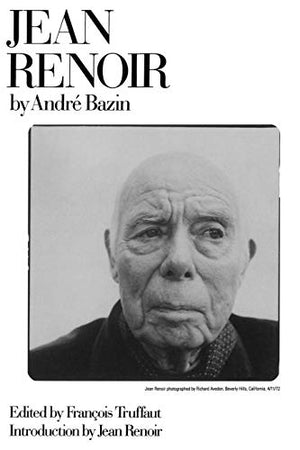 Jean Renoir by Andre Bazin
This classic in the literature of cinema represents the convergence of the three leading figures of French film: Jean Renoir, universally considered the greatest French director; André Bazin, the outstanding French film critic and theorist; and François Truffaut, the pioneer of 
la nouvelle vague.
 Bazin left this examination of Renoir's films unfinished when he died in 1958; Truffaut collected and edited the essays, and added a comprehensive filmography in which Bazin, Truffaut, Jacques Rivette, Jean-Luc Godard, Eric Rohmer, and other 
Cahiers du Cinéma
 regulars comment on the films. Here are brilliant insights into the whole of Renoir's
 

oeuvre,
 from the avant-garde fantasy of 
La Petite Marchande d'Allumettes,
 through the epic humanism of 
Grand Illusion
 and 
The Rules of the Game,
 to the quiet grace of 
The River
 and the profound theatricality of 
The Golden Coach.
 Bazin shows why Renoir is the critical figure in the development of cinema since the silent era, and how he went beyond montage to give the art new expressive potential. Renoir's work constitutes one of the most fully and beautifully elaborated visions in contemporary art, and nowhere is this humanistic vision better illuminated than in this book.