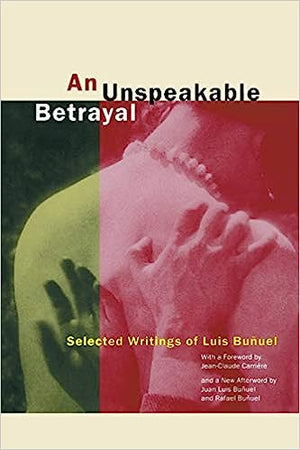 An Unspeakable Betrayal: Selected Writings of Luis Buñuel
Although Luis Buñuel, one of the great filmmakers of the century, was notoriously reluctant to discuss his own work in public, he wrote--and wrote well--on many subjects over the years. This collection proceeds chronologically, from poetry and short stories written in Buñuel's youth in Spain to an essay written in 1980, not long before his death. Newly translated into English, the writings offer startling insights into the filmmaker's life and thought.

The earliest pieces came well before Buñuel joined the Surrealist movement in Paris and created the landmark film 
Un chien andalou
 with Salvador Dalí. Yet these and the early Surrealist writings reveal the inventiveness of the mind that would later create such masterpieces of cinema as 
L'Age d'or
, 
Los olvidados
, 
Viridiana
, 
The Milky Way
, 
The Discreet Charm of the Bourgeoisie
, and 
That Obscure Object of Desire
.

Later writings, which include screenplays and reflections on his own and others' films, illuminate many aspects of Buñuel's career, as well as the ways of thinking and perceiving that underlie his unique cinematic style. The final essay by this extraordinary artist sums up his view of the world--still vibrant and full of contradictions--at the end of his life.