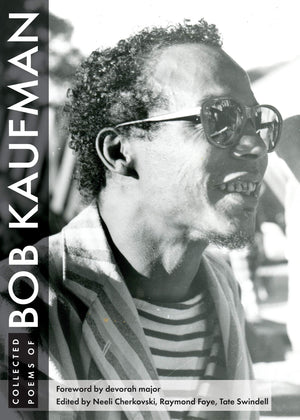 Collected Poems of Bob Kaufman
Bob Kaufman (1925–1986) was one of the most important—and most original—poets of the twentieth century. He is among the inaugurators of what today is characterized as the Afro-Surreal, uniting the surrealist practice of automatic writing with the jazz concept of spontaneous composition. He seldom wrote his poems down and often discarded those he did, leaving them to be rescued by others. He was also a legendary figure of the Beat Generation, known as much for hopping on tables to declaim his poetry as for maintaining a monastic silence for months or even years at a time.
Kaufman produced just three broadsides and three books in his lifetime. In 1967, Golden Sardine was published by City Lights in its famed Pocket Poets Series, and became an instant cult classic. Collected Poems is a landmark poetic achievement, bringing together all of Kaufman's known surviving poems, including an extensive section of previously uncollected work, in a long overdue return to City Lights Books.