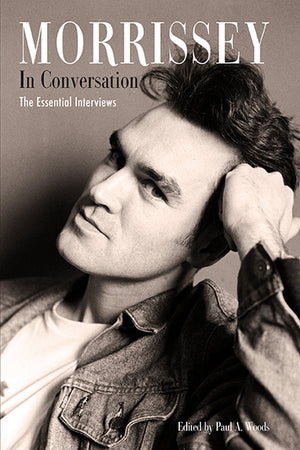 Morrissey in Conversation: The Essential Interviews by Paul A Woods
As an interview subject, Steven Patrick Morrissey has made barbed observations about modern culture for more than three decades. As renowned for his elegantly waspish interviews as for his celebrated song lyrics, his wit and vitriol are finally brought together in a long overdue collection of interviews. Chronologically touching all the major points of his career, 
Morrissey in Conversation: The Essential Interviews
 comprises the most famous statements of Britain's greatest and least likely rock'n'roll star.

The resurgence of Morrissey demonstrates how transient fashion can never truly eclipse a great maverick. All is contained within these pages: the groundbreaking days of the Smiths; the early solo triumphs; the hurtful ostracism by the music press that once lionized him; his return after years in the commercial wilderness. As much an archivist of British cultural life as a pop star, this collection preserves for posterity Morrissey's love of literary figures like Oscar Wilde, his fetish for late '50s/early '60s icons, reflections on his (a)sexuality, his militant vegetarianism, and his sardonic salvos against mediocrity in all its forms.

Includes contributions from Neil McCormick, Simon Garfield, Biba Kopf, Max Bell, Dylan Jones, Mat Snow, Steven Daly, Stuart Maconie, Andrew Harrison, Will Self, Lynn Barber, Keith Cameron, Andrew Male and Paul Morley. All bear witness to this most singular talent, the modern pop song's chronicler of loneliness, perversity and an English working-class sensibility, now lost.