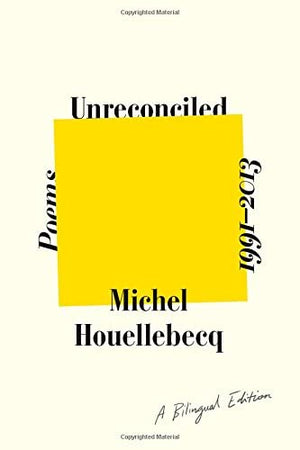 Unreconciled: Poems 1991-2013 by Michel Houellebecq
A shimmering selection of poems chosen from four collections of one of France's most exciting authors, Unreconciled shines a fresh light on Michel Houellebecq and reveals the radical singularity of his work. Drawing on themes that are similar to the ones in his novels, these poems are a journey into the depths of individual experience and universal passions.

Divided into five parts, Unreconciled forms a narrative of love, hopelessness, catastrophe, dedication, and—ultimately—redemption. In a world of supermarkets and public transportation, indifferent landscapes and lonely nights, Houellebecq manages to find traces of divine grace even as he exposes our inexorable decline into chaos.

Told through forms and rhythms that are both ancient and new, with language steeped in the everyday, Unreconciled stands in the tradition of Baudelaire while making a bold new claim on contemporary verse. It reveals that in addition to his work as an incisive novelist, Houellebecq is one of our most perceptive poets with a vision of our era that brims with tensions that cannot—and will not—be reconciled.