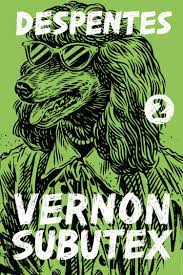 Vernon Subutex 2 by Virginie Despentes
Rock star Alex Bleach might be dead, but he has a secret. It's a secret that concerns several people, but the only person who can unlock it is Vernon Subutex, former record shop proprietor turned homeless messiah and guru, last seen hallucinating and feverish on a bench. He has tapes of Alex that will shake the world. The hunt is on, and the wolves are closing in.
Meanwhile, the cast of lovers and killers in Vernon's orbit is in violent disarray. Aïcha wants to know the truth behind the death of her mother, the porn star Vodka Satana. And if she finds the bastards responsible, she wants to make them pay, whatever Céleste thinks of her plan. Céleste wants Aïcha to get a grip and stop hanging around with Subutex's gang of disciples. The Hyena wants to find the Bleach tapes. She wants to untangle her complicated feelings about Anaïs, her boss's assistant. And speaking of her boss, she does not want Laurent Dopalet to discover how badly she has double-crossed him.
Big-shot producer Laurent Dopalet wants the Hyena to find and destroy the Bleach tapes. He wants to forget he ever knew Vodka Satana. He wants people to stop graffitiing his apartment with ludicrous allegations. Above all, he wants people to understand: NONE OF THIS IS HIS FAULT.